Welcome!
Thank you for visiting our site. We hope that your search with us has been successful and your needs met. With access to over 4,300 suppliers/manufacturer representing 850,000 kinds of promotional products and goods we are able to provide you with just about anything you can imagine.
Don't see it, let us know and we will be happy to assist you in your search for that perfect product.
or give us call at (225) 248-6900

Featured Item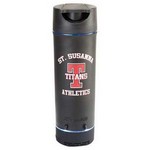 Zoom® Audio Flask
The Zoom® Audio Flask rocks out with an 18 oz. capacity to keep you hydrated. It boasts a removable, light-up, Bluetooth speaker that blasts your favorite soundtrack to keep you motivated and supports...

Signature Showrooms